Get This Game-Changing Floor Scrubber to Save Time, Labor, and Water at Your Facility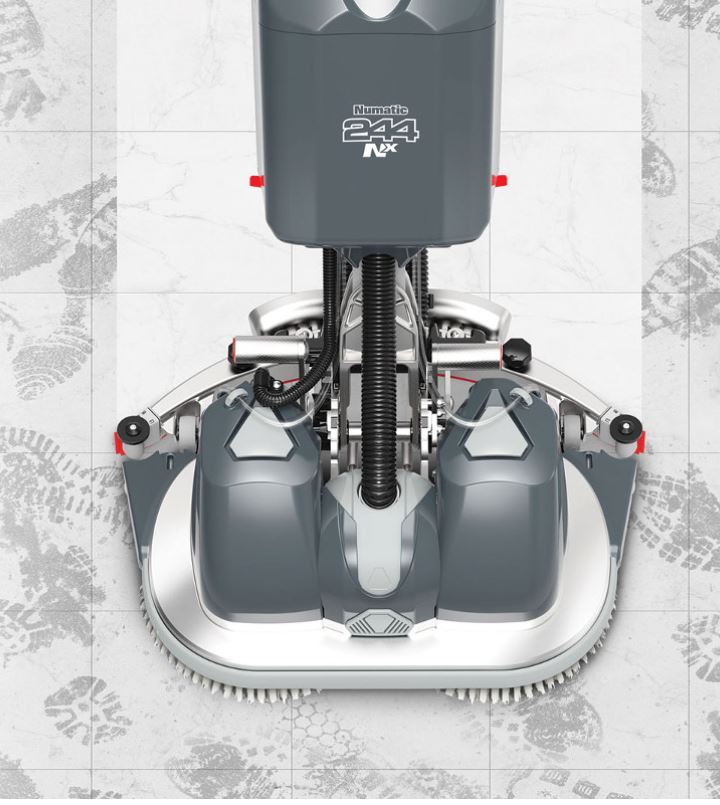 Keeping floors clean is a challenge, whether you're responsible for managing a hospital, retail environment, warehouse, or another type of facility. Mopping is the old-fashioned way to loosen dirt and debris, so it doesn't remain stuck to the floor. Yet linoleum, tile, and polished concrete floors don't really get cleaned by this outdated method of janitorial care. Instead, you can achieve a much higher standard of cleaning by choosing a commercial-quality compact floor scrubber. These appliances, especially the NaceCare 244NX Compact Scrubber, offer a number of benefits for facilities of all sizes and types. If you're already interested, you can learn more about the fastest and most effective floor-cleaning solution.
What Makes Floor Scrubbers So Much Better Than Mopping?
The automatic floor scrubber is a piece of commercial floor cleaning equipment that often looks somewhat similar to a polishing machine. Yet instead of polishing pads, it is equipped with scrubbing brushes that loosen dirt and a vacuum system to lift it all away. Most floor scrubbers, including the 244NX Compact Scrubber from NaceCare, apply cleaning solutions and water in limited amounts to clean and sanitize all sorts of floors.
Floor scrubbing is much more thorough than traditional mopping, reducing the amount of dirt left behind to cause visual or hygienic issues. It's also dramatically faster than manual mopping, not to mention easier on the workers you assign to the task of cleaning the floors. If you're running a cleaning service, you'll attract better talent by offering your workforce the use of efficient and ergonomic equipment. Mopping is a task often skipped or put off by workers because it's a demanding physical chore that involves handling a lot of dirty water. The floor scrubber contains all of the mess, and the best models are operated by foot switch, so there's no need to even bend down. When the cleaning is done, the contained tanks of the scrubber are easily moved without risk of spilling and emptied within seconds.
Which Facilities Benefit from the Use of Floor Scrubbers?
Almost any facility of any size or level of public access can benefit from switching to a floor scrubber. Even places with relatively little traffic need occasional cleaning to keep debris and dirt from creating slip hazards. But the biggest benefits are usually seen in highly public facilities like libraries, schools, hospitals, retail stores, and more. Since customers or guests are constantly visiting these locations, they'll want to see sparkling clean floors at all times. Yet the very level of traffic also leads to more dirt being tracked into the facility. A floor scrubber quickly and quietly cleans up messes and restores a sparkling clean floor without disrupting guests or leaving floors wet and slippery for hours at a time. Ready to schedule your own free demo with a cutting-edge floor scrubber?
Why Is the NaceCare 244NX Compact Scrubber a Great Choice?
While you can choose from many commercial-grade floor scrubbers, the NaceCare 244NX Compact Scrubber is a particularly versatile choice. It's a small push-style scrubber, perfect for getting between tightly arranged retail shelves or around tables and chairs in a restaurant environment. When used once per day, this model can reduce water use by over 1,300 gallons in a year compared to mopping. Centrifugal brushes scrub at top speed without flinging any water or suds around, keeping the cleaning contained to the floor. A 1-hour fast charge system ensures this floor scrubber is always ready to use. With color-coded push button controls, it's never been easier to train an employee on this kind of equipment. Need more help? The company's Nu-Assist app can answer all of your questions. Thanks to a compact and vertical design, this scrubber is easily parked anywhere without creating an obstacle for employees or customers. It'll tuck away into a corner until you need it, keeping it close at hand anywhere in a facility.
How Can You Get Started with a Floor Scrubber Today?
Schedule your free demo of this compact floor scrubber by reaching out to us here at Warehouse Direct. We're happy to come to your facility and show you exactly how this revolutionary cleaning solution could work for you. Operate a janitorial service instead? We'll set up a demo just for you and your cleaning team.